The subject of the IoT often spawns lofty discussions surrounding 'digital transformation' across industries. These discussions may be great from a theoretical standpoint, but often leave manufacturers scratching their heads and wondering where to start. Forbes reports, "a majority of manufacturers, 51%, state either that selected business areas are supported by IoT or that they have deployed it extensively across their organizations." It is apparent that IoT technology is being implemented across manufacturing organizations but the most important questions to ask are why are they being implemented and where to start? As IoT technology matures and ROI is proven, some common roadmaps to IoT adoption are beginning to emerge.
Top Motivators of Successful Adopters
A 2018 Bain & Company survey provides some interesting insights into IoT attractiveness. That survey combined with our experiences suggests some top motivations for an IoT project implementation. They include:
Monitoring production lines and assets
Executing predictive maintenance
Developing new or augmenting existing lines of business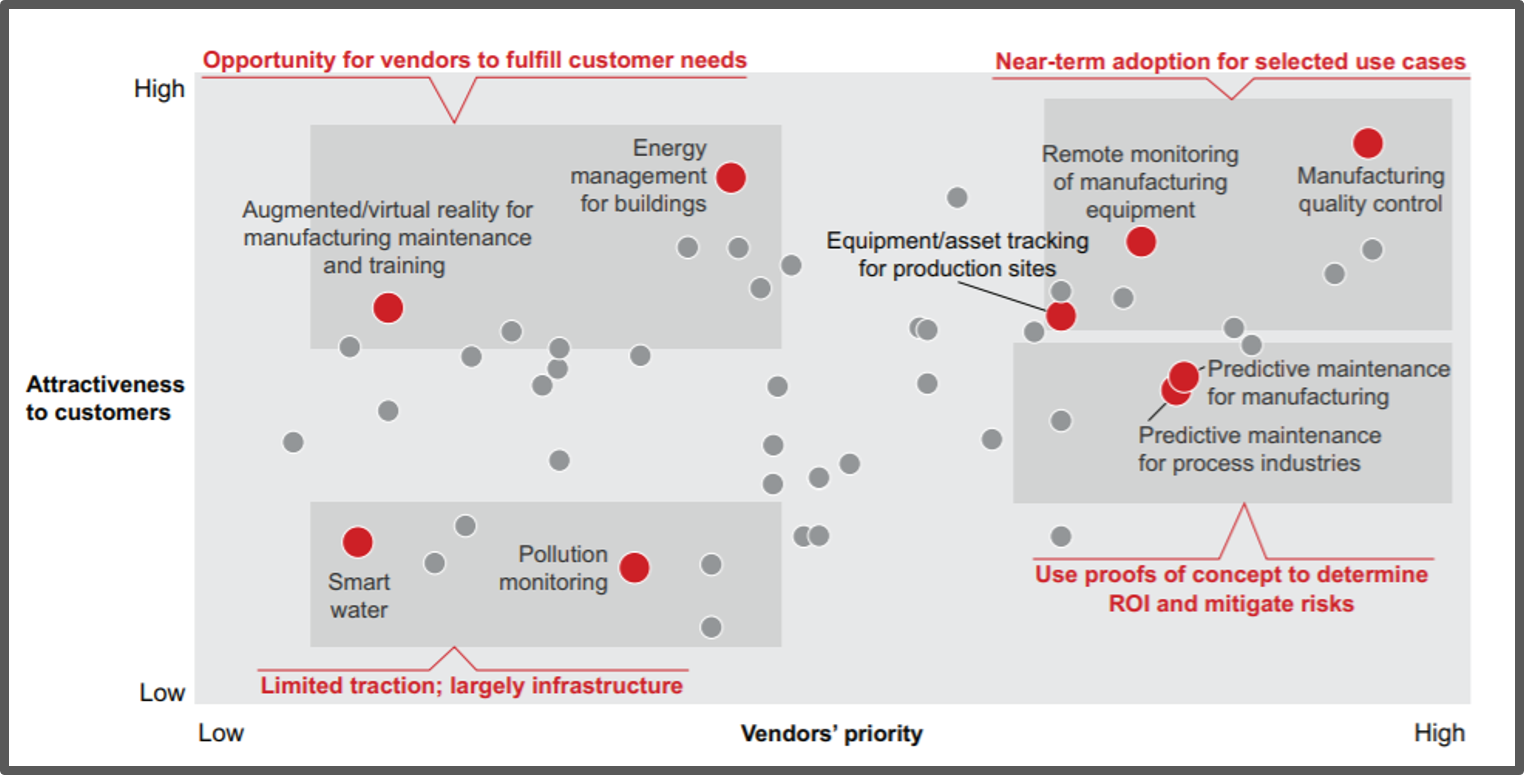 This post breaks down a few of these use cases as well as how manufacturers are using new IoT technology to open new lines of business.
Top Use Case: Production / Manufacturing Monitoring
Manufacturers are increasing visibility across machines in the manufacturing process with IoT technology allowing for smarter decisions and operational efficiency.
In order to produce various goods, manufacturers use a large number of machines often differing in age, type, and function spread across large areas. Traditional hardwired supervisory control and data acquisition (SCADA) systems have been available for years to monitor machinery, but their complexity and expense often limit their use to the most critical of equipment. More flexible IoT Platforms allow manufacturers to collect data from more than just mission critical machines. Connecting a greater percentage of existing equipment to the internet provides a more comprehensive base of information that underpins all of the IoT use cases, and is an important first step. From there, remote monitoring of manufacturing equipment, manufacturing quality control and equipment/asset tracking for production sites all score highly in attractiveness to customers and vendors, and are good candidates for near-term adoption.
Top Use Case: Predictive Maintenance / Condition-Based Maintenance
"Predictive Maintenance has become the killer use case of the Internet of Things. The benefits have now been demonstrated in many industries, which is why thousands of companies are currently adopting this technology – many still on a small scale but some going "all in." The lion's share of organizations that adopt IoT technology simultaneously also adopt some form of Predictive Maintenance. As more and more assets will be monitored globally, we believe that 5 years from now, the savings from Predictive Maintenance globally will reach $188B – a number higher than today's GDP of a country like Ukraine." IoT Analytics Managing Director Knud Lasse Lueth.
Avoiding plant downtime is a top priority of every manufacturer. Any piece of equipment will wear and eventually fail. IoT offers new cost-effective strategies for maintenance beyond reactive (fix things when they break) and preventative (routine) machine health checks that consume man hours to mostly confirm things are OK. Using IoT technology to continuously monitor machines and quickly detect condition-based changes in machine health allows maintenance teams to predict and prevent problems before unexpected shutdowns. While these predictions will grow ever better with more data and advanced analytics, many organizations will receive an immediate benefit merely by collecting the initial basic information. You may well be better off starting now with a flexible and extensible platform and adjusting versus waiting for the "perfect" solution to come along.
New Revenue Stream Opportunities
As demand for "smart" devices continues to increase, manufacturers are incorporating more IoT technology into their own products. IoT technology creates new relationships for manufacturers with their customers after the sale, offering opportunities both for product differentiation and creating new lines of business. More importantly, IoT can provide a window into how a product is actually being used in the field, providing validation (or not) of designs and value propositions.
Specifically:
Manufacturers can gain new insights on how customers use and interact with their products. These insights are then used to improve targeted marketing efforts as well as identify upsell opportunities.
Manufacturers can also utilize IoT sensors to better understand machine performance and offer services. Operational information gathered by IoT enabled equipment can be used to trigger alerts - identifying when machines need service or parts need to be replaced. Moreover, this relationship is not limited to new equipment. Offering IoT solutions to retrofit existing machines in the field can yield new upsell opportunities for machines sold years ago.
The line between physical and informational products is already blurring and shows no sign of stopping. In a world of increased competition and compressing margins, customer value delivered through superior information could be the difference between the successful and the struggling.
As you can see, IoT provides several different avenues to manufacturing success. That success, however, will not be determined by the particular avenue chosen but rather the desire to get started on something. Like your business, IoT will continue to evolve so there will never be a "perfect" solution. Our advice is to start small, learn fast and iterate to success.