When co-founder Guy Weitzman set his sights on moving Atomation to St. Louis, one of the reasons was that he felt Atomation could drive improvements in the industrial agriculture business. After several discussions about IoT and the possibilities of collecting data from newly-connected legacy devices, Atomation provided a simple and affordable solution that met the specific needs of two global companies.
Atomation is a business-to-business solutions company that uses a proprietary Internet of Things (IoT) platform to connect existing, in-field, legacy equipment to the internet. Atoms use edge computing to turn raw sensor data into actionable information businesses use to transform operations and optimize their bottom line. This smart, simple and scaleable solution attracted the company because Atoms are deployed and configured quickly and inexpensively. The flexibility of Atomation's platform enabled the company to connect their devices and gather information for two use cases in completely different environments.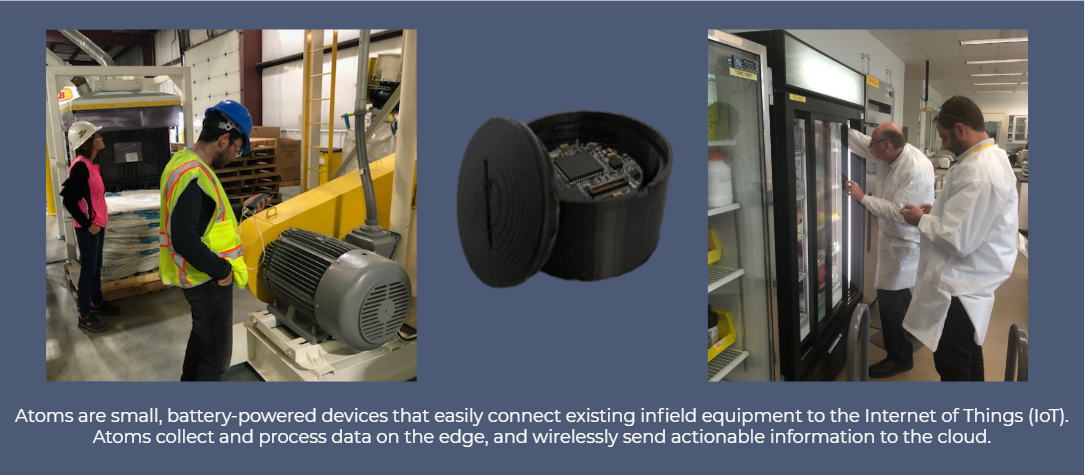 Use Case 1: Predictive Maintenance for Legacy Machinery
Environment: Indoor/outdoor industrial seed facility
Equipment: Motors, Fans, Conveyor Belts
Information/Alerts: Predictive Maintenance
Like many companies, the manufacturer had implemented a traditional wired automation system to collect data and control some of their equipment but only a fraction of all machines were able to be monitored. Investments in supervisory control and data acquisition systems (SCADA) are expensive and require time and planning to wire each machine back to a centralized control room. The end result is that companies only connect their mission critical equipment. Atomation solves this challenge differently. The Atomation solution attaches Atoms magnetically to the machine - no hard wiring or difficult installation needed. Once installed, Atoms are configured with a few taps in the Atomate It! app.
Atoms can be attached to any machine, regardless of age or type, and collect data to build a profile specific to that machine.
Atoms know to send an alert when the machine is acting outside of its normal profile or thresholds are reached, notifying Operations / Maintenance teams when a machine requires maintenance.
Atom batteries can last years because they communicate wirelessly, only when necessary.
Guy Weitzman, Co-Founder and Chief Product Officer at Atomation, worked with the company team to connect legacy machines ranging from conveyor belts to simple fans to collect data for predictive maintenance.
Use Case 2: Usage Alert System for Laboratory Equipment
Environment: Indoor Scientific Laboratory
Equipment: Shakers, Refrigerators, Incubators
Information/Alerts: Usage, Unexpected Shutdowns

Because scientific experiments may take years of work, any unexpected disruptions can be extremely costly (loss of data, information becomes invalidated, loss of time and money spent to restart an experiment). While many experiments are monitored with sensors and devices used to collect the data and precise measurements necessary to validate the experiment, few tools are in place to notify the lab manager when the temperature inside a 20-year-old refrigerator starts rising or if the shakers stop working unexpectedly.

Instead of providing a constant flow of data points, Atoms work quietly in the background monitoring experiment-critical machines. Atoms process data on the edge, making your equipment smart enough to make the decision to send an alert when equipment urgently needs attention.

The companies are looking forward to exploring additional use cases by adding Atoms to their equipment. With simple installation and easy set up, Atomation is providing new options for adding previously overlooked objects to the IoT.