As discussed in our earlier post, A Smarter Approach to Digital Transformation in the Utility Industry, the utility industry is falling behind other industries when it comes to digitization. This affects day-to-day operations on multiple levels, including personnel. In this post, we'll walk through a few of these opportunities and provide a few strategies to help utilities consider different ways to make incremental forward progress in their own transformation process.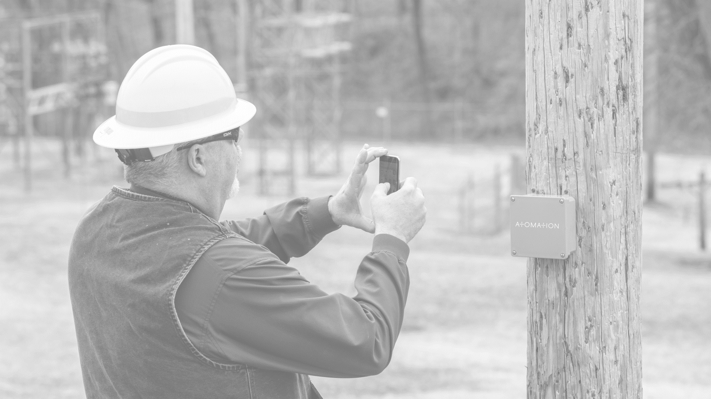 The Great Crew Change
Much has been written about the retirement of baby boomers and the loss this experience and knowledge-base will have as well as the downstream impact on overall operations and productivity in a variety of industries. A Recent Market Insight report from 451 Research commented, "Many well-instrumented operation technology (OT) processes tend to be maintained by a skilled workforce using significant experience in the physical processes involved but are typically recorded using paper-based systems or basic spreadsheets and custom homegrown applications. With the retirement of this expert workforce, there is a need to both capture that experience and attract a new intake of younger workers."*
How can utilities capture their own institutional knowledge, broaden their appeal with new workers and realize improvements in operational efficiency?
Digitization of Processes, Procedures and Knowledge
Real-time notifications of outages, schedule changes or process updates are all now possible from vendors and tools that have developed technologies to support operational functions. Usage of these systems can be as easy as using a smartphone app which makes it easy for all members of the workforce to participate. Instructions for maintenance, product information and even maps showing the physical locations of actual equipment in use can all now be housed in apps or online databases accessible by employees.
Thinking creatively about how to apply some of the technology now available yields some surprising ways to turn older, undocumented processes into a knowledge base and learning opportunity for existing and future team members. With inexpensive and easy-to-use 'voice to text' technologies (and familiarity for all users driven by wide adoption of devices like Alexa and Siri), both older and younger workers can participate in a simple capture of processes and information using dictation that can be transferred to a searchable repository for future reference and use in training.
Moving away from paper checklists and undocumented procedures helps both older and newer team members know what's expected of them each shift, capturing older knowledge while simultaneously offering management insight into overall operations.
Data is in the Forecast…
In the Market Insight report, 451 Research shared data from its IoT Market Monitor service forecasting the sources of IoT data by sector in the next five years.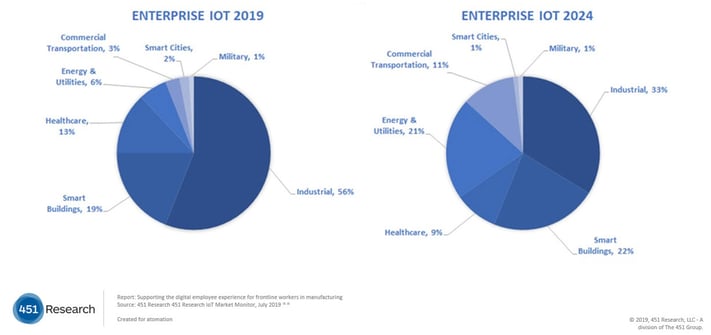 The Energy and Utility industry is expected to see a 15% overall increase in data generated in the next five years. While the 451 Research report focused on manufacturing, we believe the findings have application in utilities as well. Adding sensors to brownfield transformers and poles adds new data to the mix which can be combined with data derived from newer installations. This combination of data from old and new sources, along with the expertise of the existing workforce, gives field teams and leadership new insights to transform operations and better support the needs of the customers they serve.
Brownfield IoT Programs Can Be Affordable
As mentioned above, adding sensors to brownfield equipment is a positive, incremental step utility companies can take today to improve operations and reduce outages. Like almost all industries, the IoT industry is also transforming. Advances in programming, cellular technologies and battery life combined with the idea that the entire system doesn't need to be overhauled has provided a new approach. As an example, the Atomation solution puts the installation in the hands of the field teams, with no complex installation needs and immediately available information via dashboards and text-based alerts everyone on the team can use. The technology is approachable and easily usable across all teams, yielding a solution that doesn't require additional hires, complex programming or disruption of existing teams.
Incremental vs. Radical Change and the Impact on Your Employees
There's no doubt the case for radical change can sometimes be made but, as you approach your next IoT project, consider incremental steps that will make a real difference in the tasks your teams execute every day. Considering the consumer landscape, what your teams are currently using from a technology perspective and the level of effort required from each individual when new projects are undertaken are all critical options when choices about IoT investments are planned.
We've touched on just a few ways that utilities can support the digital employee experience for front-line workers in smaller, more accessible steps that ensure that everyone participates and benefits. Evolving technologies in the IoT industry create new opportunities for utility companies that are able to view their own transformation from a different viewpoint - it's no longer an all or nothing choice when it comes to digitization.
*"Supporting the digital employee experience for frontline workers in manufacturing" – 451 Market Insight report, October 9th 2019
**THIS CHART, LICENSED TO ATOMATION, DEVELOPED AND AS PROVIDED BY 451 RESEARCH, LLC, WAS PUBLISHED AS PART OF THE SYNDICATED MARKET INSIGHT SUBSCRIPTION SERVICE. IT SHALL BE OWNED IN ITS ENTIRETY BY 451 RESEARCH, LLC. THIS REPORT IS SOLELY INTENDED FOR USE BY THE RECIPIENT AND MAY NOT BE REPRODUCED OR RE-POSTED, IN WHOLE OR IN PART, BY THE RECIPIENT WITHOUT EXPRESS PERMISSION FROM 451 RESEARCH.